Metabones MB_SPLR-BMCC-BM1 (MBSPLRBMCCBM1, MB SPLR BMCC BM1, MB/SPLR/BMCC/BM1, mb_splr-bmcc-bm1) Leica R to BMCC Speed Booster (Black Matt)
Leica-R to Micro-4/3 mount Speed BoosterTM adapters designed exclusively for the Blackmagic 2.5k Cinema Camera (BMCC). Note that the new Speed Boosters will only attach to Blackmagic cameras equipped with a Micro-4/3 mount. They cannot be attached to standard Micro 4/3 cameras.
The new 0.64x Speed Booster reduces the full-frame crop factor of the BMCC from 2.39x to 1.53x, thus effectively transforming it into a Super-35 format cine camera. In addition, the speed of any attached lens is increased by 11/3 stops, with a maximum output aperture of f/0.80. For example, a 50mm f/1.2 becomes a 32mm f/0.80 (i.e, by using 50mm lens, the actual focal length in BMCC is 32mm x 2.39 = 76.48mm), and Sigma's new 18-35mm f/1.8 will become an 11.5-22.5mm f/1.1. (i.e, by using 18-35mm lens, the actual focal length in BMCC is from (11.5mm x 2.39 = 27.49mm) to (22.5mm x 2.39 = 53.78mm). More detail about crop factors, please refer to the table below:
Table of compatibility and resulting crop factors: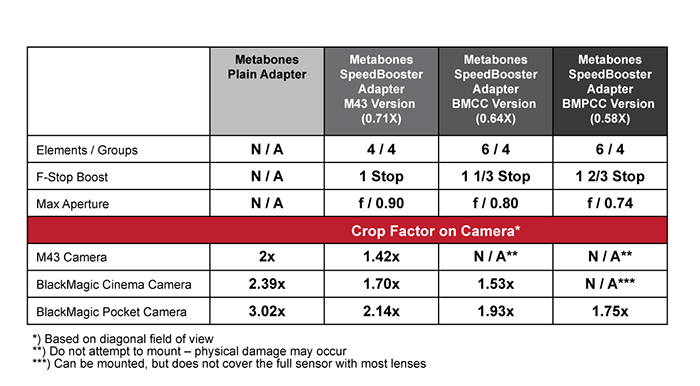 Optics designed by Caldwell Photographic in the USA (patent pending)
Increase maximum aperture by 11/3 stop. (with a maximum output aperture of f/0.80)

Increase MTF.

Makes lens 0.64x wider.

Optics designed by Caldwell Photographic in the USA (patent pending).

The tripod foot is detachable and compatible with Arca Swiss, Markins, Photo cam ball heads.
Disclaimer: we are NOT licensed, approved or endorsed by Micro Four Thirds or Leica.
Super telephotos such as the Telyt 560/5.6 may vignette at the corners.
The following lenses require modification in order to fit on the Speed Booster.
Super-Elmar-R 15mm

Elmarit R 28/2.8

Elmarit R 35/2.8

Summicron R 50/2
Since its inception, Metabones has been designing and manufacturing lens adapters recognized among professionals and enthusiasts as leaders in design and workmanship.
Contrary to the popular trend of other factories using an aluminum ring painted black on the camera-body-side, we instead take no short-cut but use precision-machined brass with chromium plating on both the camera-body and the lens sides of our adapters, in order to ensure smooth mounting, great appearance, and durability. The lens side of the adapter features a strong leaf-spring structure, strengthening the adapter-lens connection and ensuring tightness of the lens in order to reduce wear and prevent focus errors and optical alignment issues from appearing.
Metabones uses matte-black treatment to keep internal reflection to a minimum in order to maintain the maximum optical quality possible with the lens.
All Metabones Adapters follow this tradition of uncompromising precision, robust build quality and outstanding finish. Our new Smart AdapterTM series of products add industry-leading electronic interfacing technology from Canada, with true electronic control of the lens' aperture directly from the camera body.
Both camera-side and lens-side of the adapter are made of brass, precision-machined and plated with chromium.

Satin surface finish - just like your OEM lens and camera mounts.

Precise fit and solid connection - lens has no play, gap or wiggling when mounted on adapter and no adjustments are required to fit your lens.

Designed to reach infinity focus while maintaining the correct registration distance required to maintain optical quality of CRC lenses or lenses with floating elements.

Our Smart AdapterTM series adapters have the following additional features

True electronic integration of aperture diaphragm - let camera automatically choose aperture in P or S exposure modes, or dial in yourself on the camera body in A or M modes.

EXIF data such as lens identification, focal length and aperture.
Business Finance Options:
More and more businesses are adapting their strategies to focus on financial forecasting, credit control and effective working capital management. The trick is to invest in the business using finance options that encourage payment over time, offer demonstrable return on investment (ROI) and, most importantly, leave reserves intact.
Benefits:
1.                                Spread the cost over time
2.                                Tax efficiency
3.                                Create instant cash flow benefits
4.                                Demonstrate ROI from day one
5.                                Gain additional source of credit
6.                                Cover all acquisitions with one simple, regular payment
Example Quote:
Capital Cost: £10,000
Rental: 1 + 35 Monthly Payments of £320.00
Subject to underwriting and terms and conditions
For further information please contact our sales team on +44 (0) 208 397 1407 or email us on sales@digibroadcast.com
Standard UK Mainland Delivery    
We offer a standard mainland UK Delivery charge of £6.25 plus VAT on all orders (unless otherwise specified)
Items are estimated to arrive between 1-2 working days, subject to stock availability.
We also offer a Next Day Delivery £7.50 + vat and a Saturday Delivery option £25.00 + vat
Next day delivery - Option available if you order before 2.00pm 
European Delivery Service
DigiBroadcast can ship any item within Europe. Delivery charges will apply and are dependent on the size, weight and destination of the products you have ordered, and the area zone it is allocated to. 
All European deliveries are estimated to arrive between 1-3 working days, subject to stock availability, and prices are dependent on the European zone your country is allocated to.
Offshore & Overseas Delivery Service                                        
DigiBroadcast can ship any item worldwide. Delivery charges will apply and are dependent on the size, weight and destination of the products you have ordered, and the area zone it is allocated to.
All International deliveries are estimated to arrive between 2-5 working days, subject to stock availability,and shipping prices are dependent on the International zone your country is allocated to.
You will be responsible for any customs or import duties levied once the goods reach your country.   
IMPORTANT NOTES REGARDING VAT AND EU VAT                                      
If you are an EU registered business, with a valid VAT number, then you do not have to pay VAT.

You can enter your VAT registration number on the check out page, after you have selected your payment method.


Returns Policy                                               
This web site is intended for professional users. Customers must satisfy themselves that a product is suitable before making a purchase. Items sold online are sold on a firm sale basis and are not returnable. Items sold as new that within one year of the date of sale exhibit problems which can be attributed to manufacturing faults will be repaired or replaced. The decision to repair or replace will be at the discretion of Digibroadcast Co Ltd.                                                                                        

As part of our policy, items must be returned as new within 7 working days of delivery and with all the original packaging intact and product tags attached.                                            

Please notify us of your intention to return in writing at support@digibroadcast.co.uk within 7 days of receiving your delivery.         
Returns Policy  for USED products                                                                               
Problems that can be attributed to fair wear and tear, misuse, exposure to contaminants including water or impact damage will be chargeable repairs.
"You" the customer within 7 days must notify us if you wish to return your purchased products to be able to asses, verify and fix any disputes with the purchase.                                           
Customers wishing to return items to Digibroadcast Co Ltd. must contact us to obtain a returned material number (RMA) before shipping the item. When contacting us please say that you want to make a return and have your invoice number ready to quote.                                           

Items returned to Digibroadcast Co Ltd without prior agreement will be returned to the customer. Digibroadcast Co Ltd accepts no liability for financial losses incurred by customers who have submitted unauthorised returns.                                

For some products the manufacturer offers the facility to register the product and obtain an enhanced warranty. Customers are strongly urged to register such products immediately. Digibroadcast co ltd regret that unregistered customers will not be able to benefit from the additional benefits.                                           
Unwanted Product Returns within 14 days                                        
"You" the customer within 7 days must notify us if you wish to return your purchased products. After 7 days, unwanted goods will only be accepted at Digibroadcast Co Ltd discretion and will be subject to a 25% restocking charge.                                           

The unwanted product must be returned in its original and undamaged packaging with all the accessories. Returns must be made within a reasonable period - maximum of 28 days from the day you receive the product.                                      
If the product is not returned in its original packaging, is damaged or has any accessories missing, we reserve the right to refuse a refund or charge for the missing accessories.                                       
We will not refund the delivery charge and you will be liable for the delivery charge when returning the product. Follow our Return Procedure to return the product.                                               

PAYMENT
We accept PayPal, American Express, Visa, MasterCard, Maestro, Visa Electro, Delta, most Corporate cards and European cards.
If you wish to pay over the phone simply call us on +44(0) 208 397 1407
We also accept payment by Bank Transfer and Cash
Payments can also be made in person on collection
The prices stated on our website include any VAT. The amount you pay will be the price indicated on the product plus any delivery charges.
Click here for more information about PayPal Payments.
Credit & debit Cards Validation
All credit and debit cardholders are subject to validation checks and authorisation by the card issuer.
If the issuer of your payment card refuses to, or does not for any reason, authorise payment then you will be notified.
We may also use your information for the purposes of the prevention and detection of fraud. One of the purposes for which we may disclose your address and postcode details is to check against the IMRG Security Alert or any other Credit Reference Agency or Fraud Prevention Scheme.
At all times where we disclose your information it will remain secure.
SECURITY
We work with Sage Pay (formerly Protx), the largest independent payment service provider (PSP) in the UK and Ireland. Sage Pay provides a secure payment gateway (Level 1 PCI DSS), safely processing payments for thousands of online businesses, including ours. 
Sage Pay uses a range of secure methods, including fraud screening, IP address blocking and 3D secure: once on the Sage Pay systems, all sensitive data is secured using internationally recognised 256-bit encryption standards. Sage Pay is PCI DSS (Payment Card Industry Data Security Standard) compliant to the highest level and maintains regular security audits, and is regularly audited by the banks and banking authorities to ensure that their systems are impenetrable. Sage Pay is an active member of the PCI Security Standards Council (PCI SSC) that defines card industry global regulation.
Your session is in a secure encrypted environment when you see https:// in the web address, and/or when you see the locked padlock symbol alongside the URL.
More information about shopping securely with Sage Pay can be found at www.sagepay.co.uk/shoppers.